Considering having a micro wedding in Charleston, SC? These smaller events are not only a cost-saving alternative to a traditional wedding with 150+ guests, but they're an intimate affair that can be as unique as you and your partner. Since they are on a smaller scale, there are more options for you! Locations, catering, seating, and activities that can't easily be recreated at a large Charleston event are now possible. 
What are Micro Weddings in Charleston?
Imagine a normal Charleston, SC wedding celebration, just on a way smaller scale. Micro weddings generally still have a ceremony and reception with dinner, decor, cake, and entertainment. The event is typically 40 people or less, with the majority in the range of 15 to 25 guests. A small guest list means less seating, centerpieces, linens, food, and the list goes on. According to The Knot's 2019 Real Weddings Study, the average wedding last year cost over $33,000.  A micro wedding can be achieved under $10,000. Talk about major savings!
But a small wedding doesn't mean a micro wedding can't be lavish. While the guestlist for micro weddings is limited, this doesn't mean the couple is throwing a frugal, thrifty wedding. Micro weddings allow a couple to bring their true wedding day vision to life with more budget for anything else! If you're looking to splurge on a unique venue, a customized catered meal, or lavish decor, you can!  You will still save money in the end when the guest list is limited. Micro weddings give you more budget to dream, doing something you simply could not fathom providing for 300 people.
Samantha & Wayne's micro wedding shown below at Tides Folly Beach which is located along with one of Charleston area's most breathtaking beaches.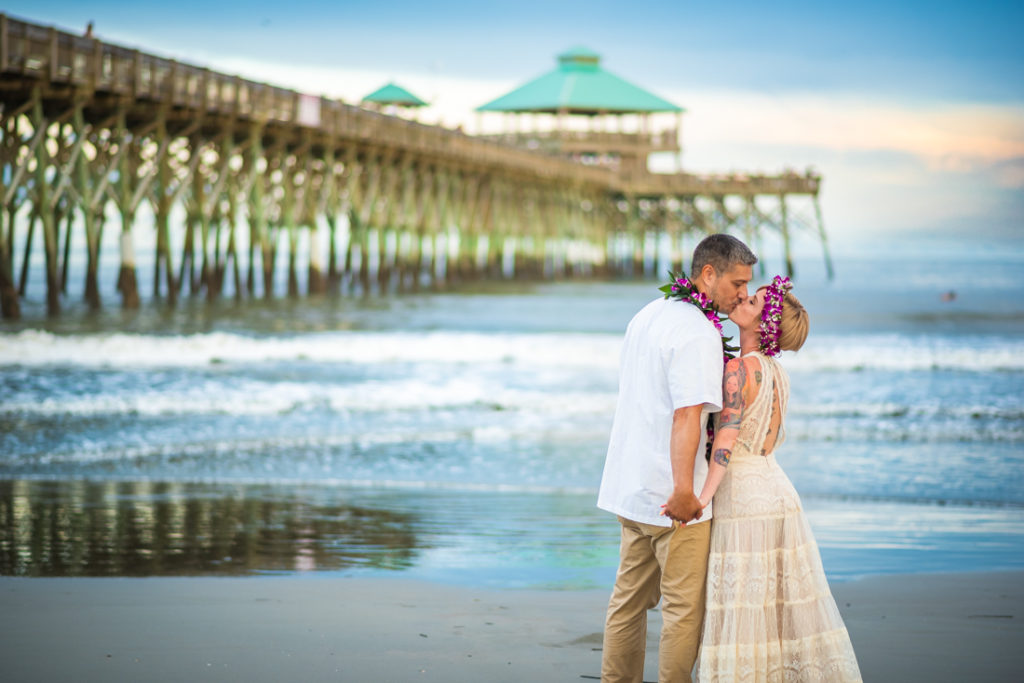 First Steps in Micro Wedding Planning
Similar to planning a standard wedding, the first steps in Micro Weddings in Charleston planning is to think about your ideal timeframe and venue. The biggest difference here is that micro weddings allow for many more event location options, inside or outside. From the stage of theatre to a shady spot in your best friend's backyard, micro weddings don't have to be confined to a standard wedding venue. Understanding the estimated number of guests and your vision for the day (urban, bohemian, formal, garden, ethereal, modern tropical, rustic, etc.) will help guide you on what type of location to be looking for. 
Emily and Mark's wedding shown at Wild Dunes Resort which is located on the pristine Isle of Palms shores.
Charleston, SC Micro Wedding Services
Photography
When throwing a micro wedding, we suggest hiring a photographer to capture your unique day. Quality photos of you and your spouse are a must! Time and effort were put into every detail of the day, plus your favorite people in the entire world will all be together! You'll want all this captured to look back on for years to come!
Music
Whether you want a dance off to emerge or an evening of sing-a-long tunes around the fire pit, music helps bring your space to life! Set the atmosphere with music from when guests arrive to the final slow dance of the evening. Hire a DJ to make announcements, provide microphones for any speeches, and to create the soundtrack to the day of your dreams. 
Videography
With a small guest list, many individuals you enjoy simply won't be able to make the slim list. Choosing videography for a micro wedding is a great option to share the day with everyone!  Extended family members, coworkers, high school friends, your gym buddy, your mom's hair stylist, and all those who wish they made the invite list.
Sabrina and Hampton's wedding also shown at Wild Dunes Resort!
Take the stress out of hiring multiple vendors by choosing a vendor who can cater multiple services for your day. Complete Weddings + Events offers budget-friendly packages on photography, DJ and videography perfect for a micro wedding! Having a photographer, DJ, and videographer who work well together is something you won't take for granted!
Contact Complete Weddings + Events if you're interested in your own micro wedding in Charleston, SC!
Stevie and Trent's wedding shown at White Point Gardens in Downtown Charleston and reception at Pour Taproom's rooftop.