Wedding Photographers Atlanta, GA
Finding the best Atlanta wedding photographer for your wedding day starts with finding a photographer with both skill and style. You want a visual storyteller who is professional and creative, and that will work with you to capture photographs that live up to your vision for your wedding. The perfect wedding album is complete with high-quality images that capture the raw emotion of your special day.
Talented, Professional Photographers
In addition to finding a talented professional, you want to find somebody you get along with. You and your wedding photographer will spend a lot of time together leading up to and during the event.
Complete Weddings + Events hires Atlanta wedding photographers who are not only great at their craft but great at interacting with people. This means more often they can get the best shots and leave everyone in the room laughing and having a good time.
What Events Do We Photograph?
The Atlanta photographers of Complete Weddings + Events are experts at event and wedding photography. We have been taking wedding photos for years because we believe well-done photographs take an event from good to spectacular. Our photography packages can benefit weddings along with lots of different events, including:
Weddings:
When you hire us to photograph your wedding, we know that this is a privilege and we take that very seriously. Our

Atlanta

wedding photographers are there to make sure your wedding photographs tell your love story and celebrate everyone there with you on your big day.
Parties:
Birthdays, graduations, holiday parties, barbeques — we do them all! Grab those candid shots and take photos for your distant loved ones with an event photographer
Corporate Events:
While you may not think about having a

Atlanta

photographer at a corporate event, they can become a valuable marketing partner. The photos not only showcase the best side of your business, but they can also create marketing photos that help other people see it too.
Bar and Bat Mitzvahs:
This list could go on and on. We know that there are dozens of other events that you will celebrate, so contact us and we'll help you make the perfect plan for unforgettable event photography!
Atlanta Wedding Photographers and Videographers 
To make your event planning even easier, our Atlanta wedding photographers work great with our team of videographers, DJs, and Photo Booth attendants, who are all trained to work together to give you the best possible experience at your Georgia wedding venue.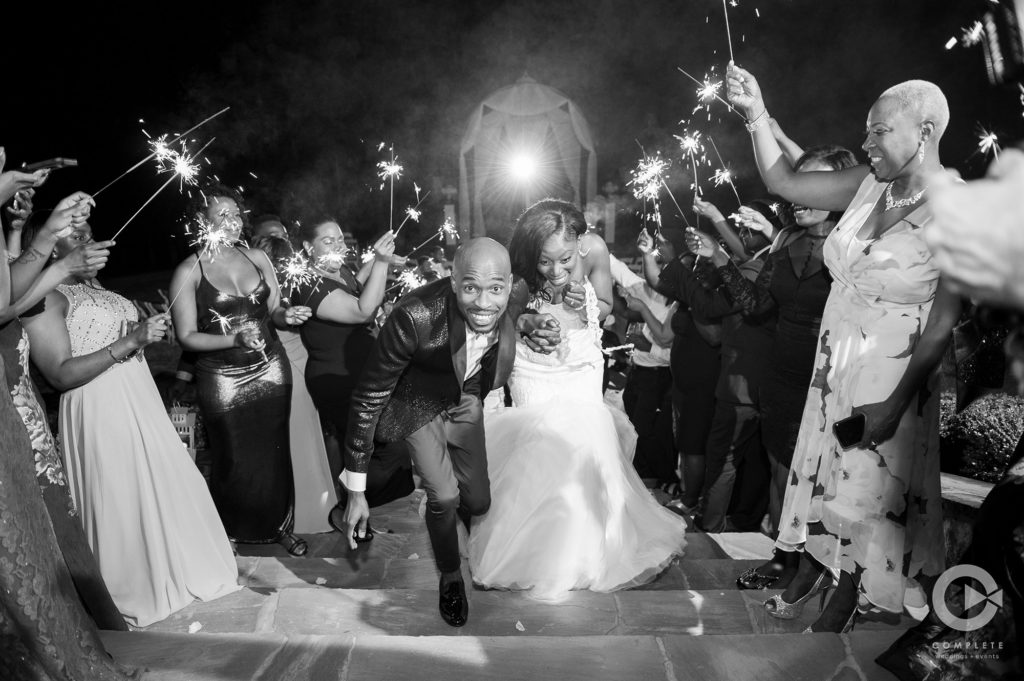 Best Places for Wedding Parties & Engagement Photos in Atlanta
We can help you locate the best places to take your wedding party, or even options for engagement photos around Atlanta, Fayetteville, and surrounding areas. Some suggestions include
Marietta Square and the Marietta Conference Center garden area
Roswell Mill or Ivy Hall Park
Downtown Acworth
Meadow Greens, a park on Dallas Highway
Downtown Kennesaw
Our Atlanta wedding photographers are always happy to travel to the place that is special to you though!
Atlanta Wedding Photographers – Complete Weddings + Events
Ask us about our videography, DJ, and photo booth rental services too. We look forward to connecting with you!
Contact us today to learn more about our services or to book an Atlanta wedding photographer today!
Customer Reviews
"Highly Recommend. Could not be more happy with Complete Weddings & Events. Thank you Rich! Your DJ Service, Photography and Photo Booth services were all top-notch from your setup to the very end. Thank you for making my daughters reception run smoothly while allowing us to relax and mingle with friends and family." – Larae R. 

"Couldn't ask for a better company to work with for our wedding! Neal, our photographer was amazing!!!" – Katie K. 

"Great work from great people. DJ and Photographer were both excellent, professional, fun, and performed their duties and then some. They were very kind and patient and knew how to handle us in moments of indecision and confusion. 100% recommend, worth their cost 1000 times over!" – Jeremy S. 

"Rich was so easy to work with for our wedding day. They were very flexible and easy to reschedule when we had to move our wedding date due to COVID-19. We used both the DJ service and Photography service. Matt C., our DJ, did a great job of listening to our wants and kept everyone happy during the wedding. Robert our photographer was AMAZING. He captured every moment we could have wanted and his personality is one you want around on your wedding day, oh and the pictures were beautiful!" – Ally L.