Everyone has a grand entrance at their wedding, but what about a grand exit? A grand entrance is used to get your guests ready for the party and the remaining events that evening. However, a grand exit is used as one final way to say bye to wedding guests and let them know the night is over. Not to mention, a grand wedding reception exit also allows for the Tampa wedding photographer to capture awesome photos of the bride and groom as well as guests. One of the more common grand exits we see at Complete involves the couple leaving in a getaway car that says "just married" with cans strung to the back. Don't worry if this is not your cup of tea. There are many other grand exit ideas to consider.
Wedding Grand Exit Ideas To Consider
Sparkler Exit
A sparkler send-off is the most common grand exit. For the sparkler exit, everyone gets a sparkler and stands in two lines to create a path for the bride and groom to walk down. After you light the sparklers, the couple will walk down the path with guests holding the sparklers high above their heads.
If you decide to add a little extra flair to the sparkler sendoff, you can incorporate Cold Spark machines. These machines will shoot sparks in the air for 30 seconds during the grand exit to add an extra flare. Sparklersrus.com is a great site to purchase sparklers for your send-off!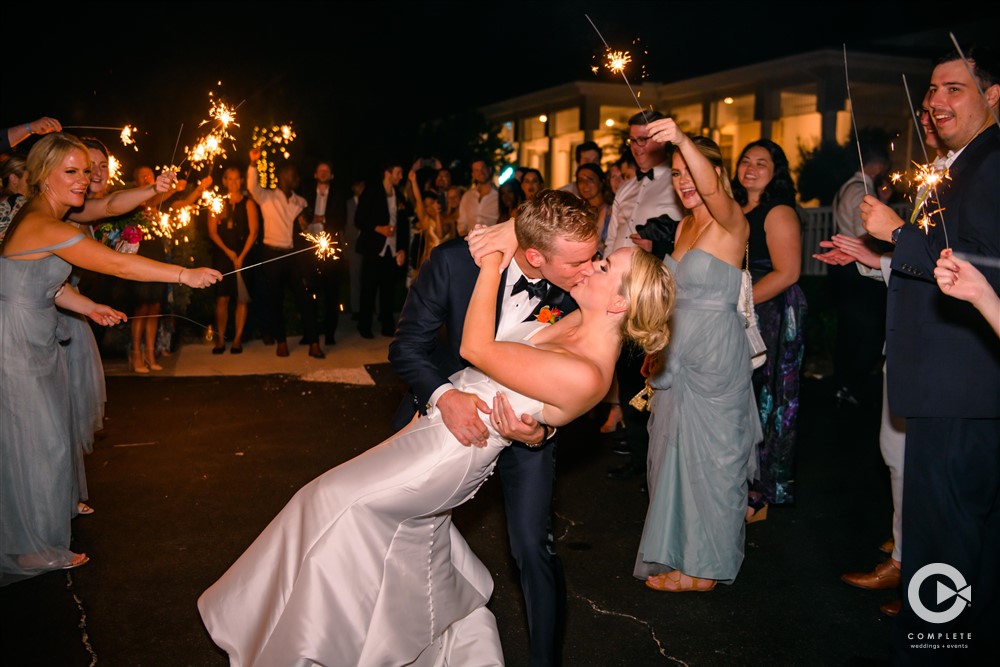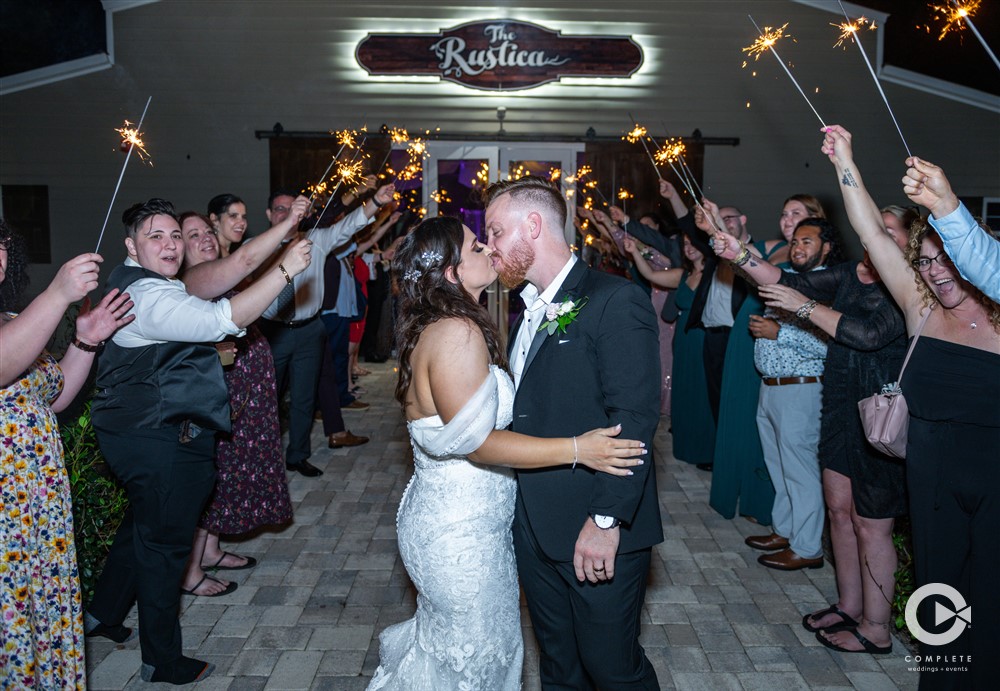 Light Up Foam Stick
If you want to stick with the light-up exits, another great wedding exit idea is the light-up foam sticks. Similar to the fiber optic wands, light up foam sticks can create different colors to look like a rainbow. However, instead of a fuzzy end, it's just one foam stick. If light-up foam sticks are something you are interested in for a grand exit, you can purchase them at Amazon.com.
Fiber Optic Wands
If you don't want something that involves fire, there are a ton of different exit ideas. Fiberoptic wands are a great alternative route for a grand wedding exit. These are a little smaller and easier to control. You can also choose what color you would like them to be. Visit ifyousayido.com to purchase fiber optic wands.
Bubble Exit
If you do not want a light-up exit to end your wedding day, then you can always go with a bubble exit instead. Almost every venue will allow for a bubble exit and it is also kid friendly. You can purchase different types of bubbles at windycitynovelties.com.
Confetti
Confetti is a super fun way for the newly married couple to exit a wedding. Know that some venues do not allow confetti exits because it causes too much of a mess. However, if you can get the venue's permission, then confetti is a fun and unique way to say goodbye to everyone. Confetti also makes the bride and groom feel like rockstars. You can purchase confetti and confetti cannons at Amazon.com.
Ribbon Wands
Ribbon Wands are the easiest wedding grand exit option and do not make a mess. Better yet, there is no fire or sparks involved! Everyone can be a part of a ribbon wand send-off. Guests can also take the ribbon wands home to use for anything else. To purchase ribbon wands, visit orientaltardingcompany.com.
Complete Weddings + Events Tampa, Florida
If you're looking for more creative ways to personalize your wedding day or want a Tampa wedding photographer/videography to capture your big day, contact Complete Weddings + Events. We offer multiple services you can mix and match to build a wedding package filled with all your needs to make your day a success!
Follow us on Instagram @Complete_Tampabay