Now that you have that bling on your pretty finger let's start thinking about checking things off our list!
Love of Your Life ✔
Guest List ✔
Wedding Date and Venue ✔
Ceremony and Reception Times ✔
Color Palette & Theme ✔
What is stationery? Stationery is your guest's first impression of your wedding whether you are doing save the dates or just sending out invitations. Therefore, you will want to make sure to get it right! Complete Weddings + Events Springfield, Missouri has your back with all the inside knowledge. From stationery etiquette to helpful tips we will help guide you along the way.
Save The Date Stationery Etiquette + Tips
Keep it simple. You want who, what, when, where, and why. You don't need to list the venue name or start time.
Include your wedding website. This will give them all the necessary details as well as accommodations, directions, and wedding registry info.
Only send save the dates to guests that you are sure you want to attend. They should be sent between six months to a year in advance of the wedding. If you send too early, people will forget. Too late and it's really not necessary. Save it for the invitation at that point.
Wedding Invitation Suite Etiquette + Tips
Your design should set the tone for the wedding. You should not use your married monogram or name on any stationery sent prior to the wedding. Try to use your wedding colors. However, remember they don't have to be an exact match.
Be sure to include all the details. Who, what, when, where, and why. Include a details card with simple info such as accommodations, dress code, and/or your wedding website. Wedding registry info should not be included on any invitation cards. Gift-giving should never be the focus of your wedding. It is okay to put it on your shower invitation since a shower is specifically for gift giving.
All abbreviations should be spelled out and zip codes are not used on the invitation card. Be sure to proofread all pieces many times with multiple sets of eyes.
Include a reply card. A mail-in card can be helpful for older generations and are still the standard for formal events. You can include an online option on the mail-in card to give many options for your guests to reply. Be sure to use a respond-by date that gives you plenty of time to reach out to those who don't respond and to give your count to your caterers. Make sure that guests know you want them to accept OR decline by using the proper wording.
Return addresses and guest addresses can be handwritten or printed but a label should never be used. Always order extra envelopes for mistakes especially if you're having them printed. Be clear on who is being invited when addressing the envelopes. If children on not invited, consider including this on the details cards.
Wedding invitations should be sent out between six to eight weeks prior to the wedding. Take an assembled invitation to the post office to be weighed before purchasing stamps. Square and seal and send invitations are always extra postage.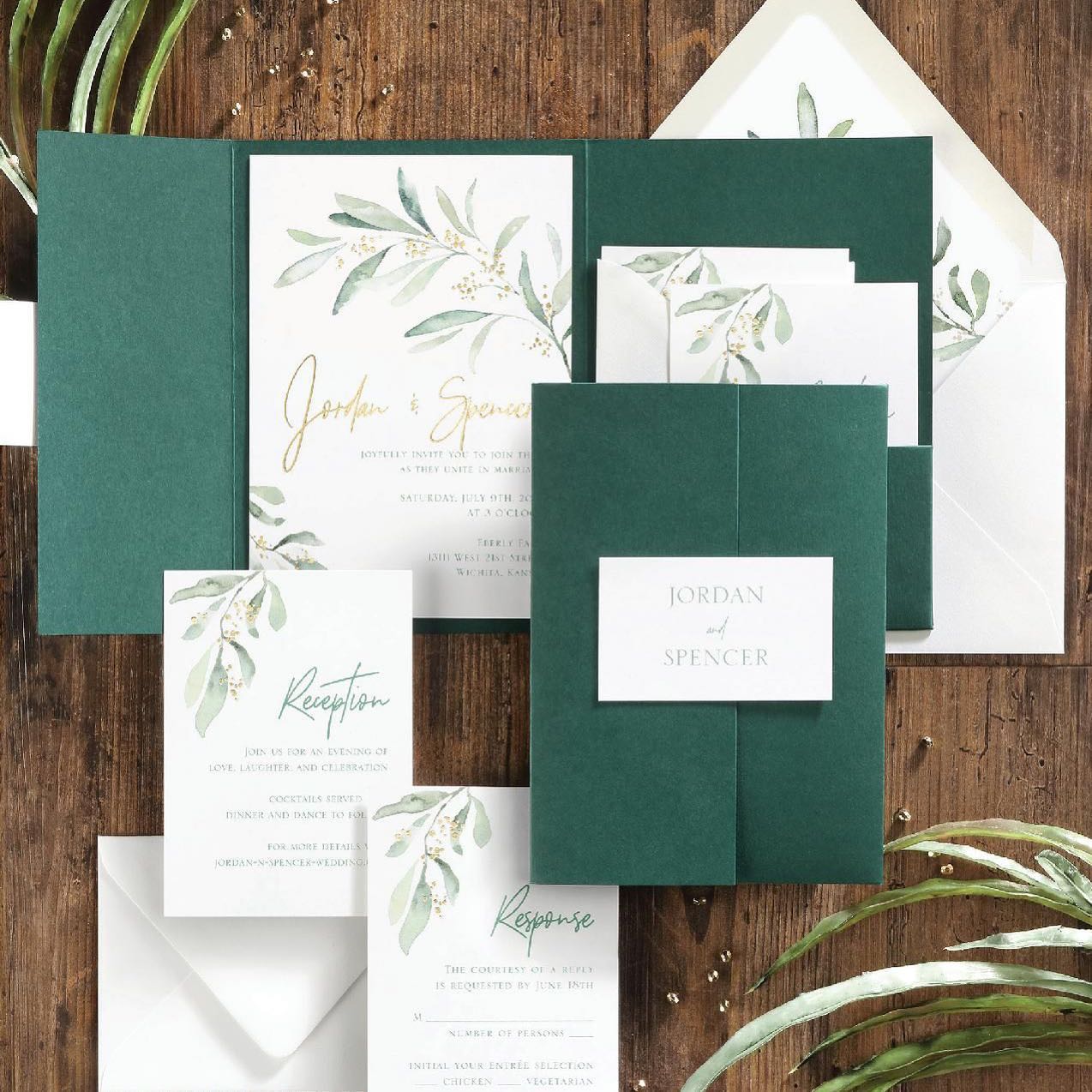 Wedding Announcement Etiquette + Tips
Word wedding announcements so that the guests know that the wedding has already passed and why it was a destination wedding or a small or private ceremony. Include all the details of a wedding invitation but the actual venue and time are not necessary.
Announcements are only sent out to people who were not invited to the wedding and should only be sent after the wedding. This can avoid confusion for your recipients. They can be sent the day after or even up to a year after.
Thank You Card Stationery Etiquette + Tips
Thank you cards should be sent within two months of the wedding. For any other wedding events, they should be sent within a week.
Your message should be handwritten and specify the gift received. Include something personal, but keep it simple.
You should not use your married name or monogram on stationery sent prior to the wedding.
Stationery etiquette and tips were provided by PaperWorld Stationery.
Complete Weddings + Events Springfield, Missouri
Complete Weddings + Events offers multiple services to make it easy to reserve your wedding date for the vendors you still need! Contact Complete for availability on needs for your wedding day!