Envision the allure of a summer wedding in Seattle, where nature serves as a vibrant backdrop with a splendid display of sun-kissed skies and blooming flora. However, to bring this vision to life, selecting the ideal summer wedding colors is pivotal in enhancing the natural summertime charm. This article will assist you in selecting from an array of enchanting color schemes handpicked exclusively for your summer nuptials.
Emerald Green and Crisp White: The Garden Gathering Dream
If you're planning an intimate garden celebration, a combination of emerald green and crisp white can beautifully enhance the natural setting. This pair makes an elegant summer wedding color palette, emanating a serene and private ambiance.
Think emerald green table linens embellished with white floral centerpieces. Or, imagine bridesmaids adorned in green dresses complementing your pristine white wedding gown. The options for this harmonious duo are boundless!
Mint Green and Blush Pink: Sophisticated Summer Elegance
For a summer wedding that exudes sophistication and charm, consider pairing mint green with blush pink. Perfect for a royal-themed hall wedding, this color combination cultivates a serene yet radiant atmosphere.
Employ these colors in the design of your wedding invitations or on a cake adorned with mint blooms and hot pink text for an impressive touch. The delicate contrast will captivate your guests, making your celebration unforgettable.
Dusty Rose and Dove Gray: Trendsetting Tones for Tented Galas
Dusty rose and dove gray create a splendid duo for fashion-forward outdoor tent weddings. The lively yet elegant dusty rose pairs flawlessly with the subtle tones of white and gray, offering a minimalist and chic aesthetic.
Consider incorporating dusty rose cocktail napkins, white or gray reception menus, and assorted centerpieces to elevate the theme. This pairing is sure to delight the contemporary bride.
Azure Blue and Zesty Orange: A Vintage Summer Vision
Ideal for a summer wedding with a vintage theme, azure blue and zesty orange, particularly in pastel tones, create an enchanting color palette. Transpose your venue into a magical wonderland with azure linens and orange floral arrangements in varying shades.
Earthy Brown and Sun-kissed Yellow: The Rustic Charm
If you're opting for a rustic-themed barn wedding, a blend of earthy brown with sun-kissed yellow will create the ideal atmosphere. The playful yellow offsets the rustic brown, achieving a balanced aesthetic.
Incorporate brown into your stationery, signage, and decor to complement the lively yellow, adding depth to your rustic ambiance.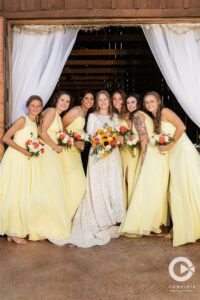 Vibrant Yellow and Rosy Pink: The Retro Charm
The combination of vibrant yellow and rosy pink is a winning choice for couples seeking a retro or vintage style. Create stunning floral displays with radiant sunflowers and lush green accents, and coordinate with pink floral arrangements and yellow table settings.
The selection of the perfect summer wedding colors can set the tone for your big day. With a myriad of combinations, find a blend that encapsulates the energy and ambiance you desire for your wedding.
Complete Weddings + Events Seattle, WA
Immerse yourself in our world of wedding magic as we guide you toward creating an unforgettable celebration.
For more wedding ideas and inspiration, visit our blog section!
Interested in our services – Photography, Videography, Photo Booth Rentals, DJs, and Day of Coordination – for your big day? Request pricing