Meagan + Steven | 02.14.2020 | Stonehouse Villa
In this crazy, uncertain time we could all use some positivity. So, take a look at this spectacular Valentine's Day wedding that we took pictures for. Meagan + Steven wedding chose this special day to say 'I do' and show the incredible love between them. Every detail was gorgeous from the elegant wedding gown Meagan wore to the beauty of their venue, Stonehouse Villa.
Meagan + Steven Wedding | Stonehouse Villa
Meagan + Steven Wedding Attire
Meagan's white off-the-shoulder gown was so elegant and looked beautiful on her. Her bridesmaids were the perfect complement to her in their blue dresses. Meagan chose two colors for the bridesmaids' dresses which looked amazing! Steven and his groomsmen looked so dapper in their black tuxes. Steven opted for a bow tie while his groomsmen wore neckties. Meagan and Steven obviously put a lot of thought into their attendants' attire and it paid off!
Meagan + Steven Wedding Details
The new Mr. & Mrs. opted for simplicity in the floral arrangements which added to the elegance of the event. The bouquets and boutonnières were made of white flowers, eucalyptus leaves, and other greenery. They carried this simplicity into their table decorations as well. They chose greenery to decorate the tables in the reception hall. The pink ring box and sparkly brides shoes were the cherries on top of all the beautiful, elegant details.
Venue
Stonehouse Villa is an amazing venue in Driftwood that provides beautiful country views, rustic touches, and romantic ceremony and reception sites. Anybody looking for a romantic and rustic hill country venue is guaranteed to fall in love with Stonehouse Villa as Meagan and Steven did.
Vendors
Complete Weddings + Events was privileged to provide multiple services for Meagan and Steven's big day. We provided DJ, Photography, Videography and Photo Booth Services. The DJ, Stephen, kept everyone on the dance floor having a good time. He provided excellent entertainment (as he always does) so the bride and groom could enjoy this special day. Every other vendor that dedicated time for this big day clearly did an amazing job and we are lucky to work alongside such great people. (P.S. if you look closely, you can see our amazing videographer, Zach, behind a dancing man in one of the photos below)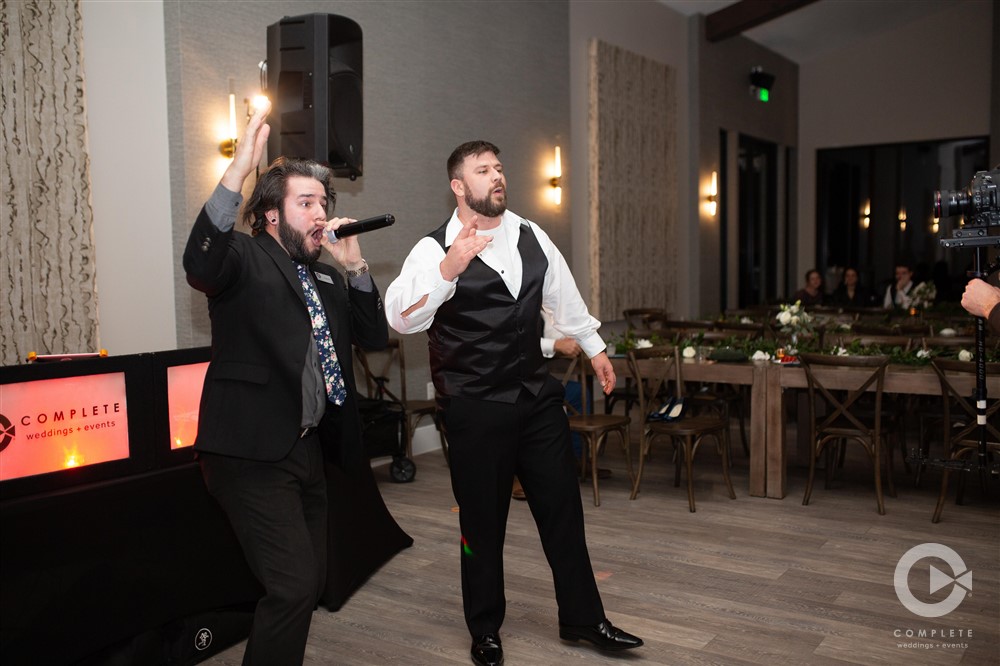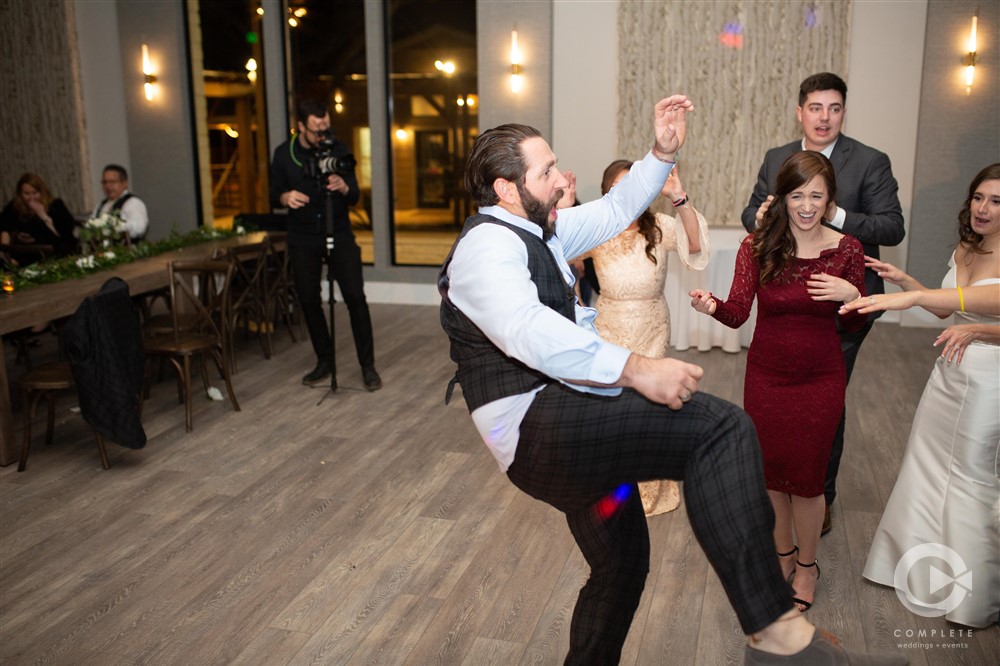 Ceremony
Every ceremony is special and unique, but they all have a few things in common.
The bride's father walks her down the aisle while they both reflect on the years that he has provided her with comfort and support before he hands her off to her husband
Tears of happiness are shed by friends and family
Two people show their love for each other in front of family and friends by getting married and vowing themselves to each other for life
Meagan and Steven's wedding ceremony was unique because they had a bridesmaid singing the processional. Although I wasn't there, I'm sure it was beautiful and meaningful. Meagan and Steven also share a love that is like no other love. Every story is different even though some elements may be the same.
The Send-Off
Meagan and Steven chose to do a sparkler exit after partying the night away with their guests. As their friends and family watched them venture out into the world as Mr. & Mrs. they felt happiness and joy and we feel grateful that we were able to be part of the day.
Complete Weddings + Events
Complete Weddings + Events can be a great addition to your big day. We can offer multiple services including Day-Of Coordination, DJ, Photo Booth, Photography and Videography. Let us help you plan this special day. Call, text or email us today for more details. Complete Weddings + Events, San Antonio's leading provider of event and wedding photography, videography, lighting, coordination, DJ services & photo booth rental.