Planning your wedding day you encounter a lot of "firsts". The first look, the first kiss, and the first dance are just a few of the first things you experience as husband and wife. Another thing to think about is the last thing you will do before leaving your reception. The exit. Here at Complete, we see many types of exits from bubbles to confetti but hands down wedding sparklers are the fan-favorite.
Weddings Sparklers and what you need to know:
You add magic, sparkle, and a great photo opportunity to your day. There are some important things to know about wedding sparklers. Here are a few tips that will help you have a fantastic sparkler exit.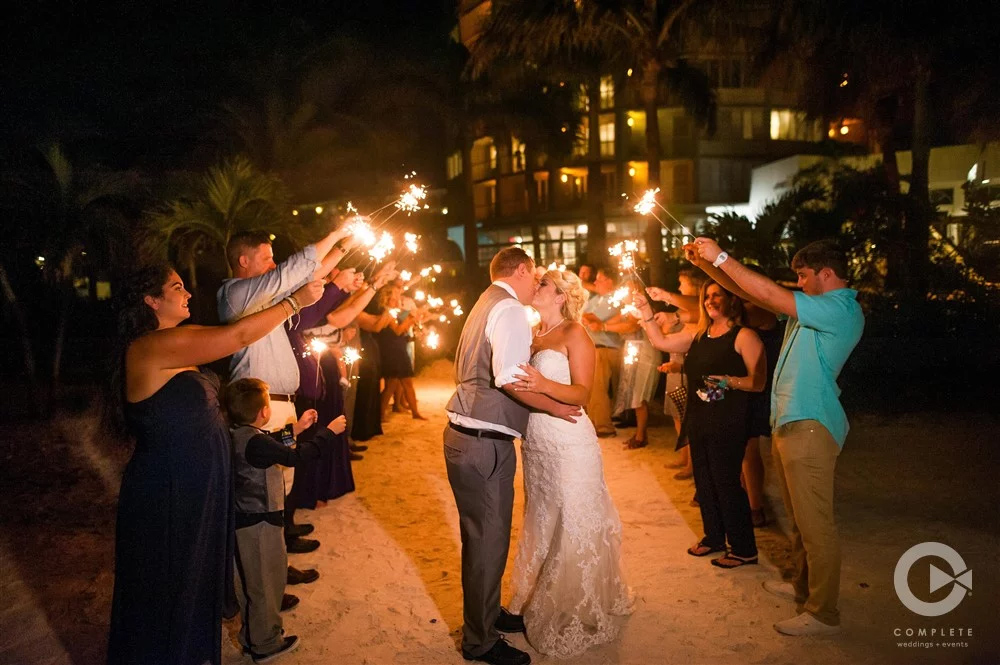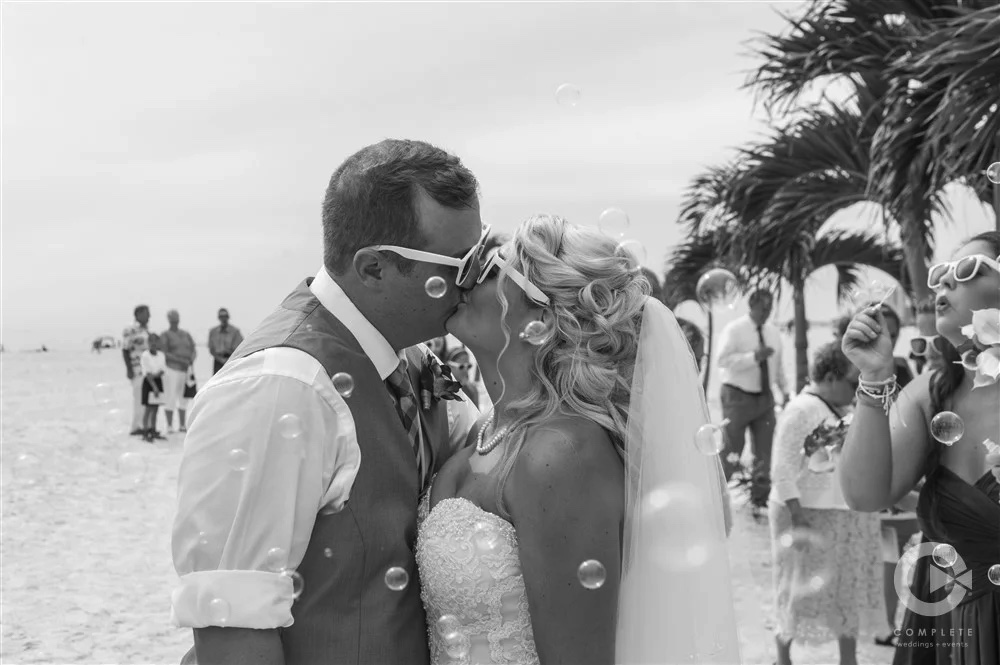 Choosing Sparklers
It's highly important that you choose a quality sparkler for your exit. There are many places to purchase sparklers, and it is crucial to get a sparkler designed for wedding exits and photos. Wedding sparklers burn cleaner with less smoke and tend to burn a bit longer than your typical 4th of July sparkler. Since it takes some time to get so many guests' sparklers lit, and then posed for the photo, the length of time the sparkler burns is important. There are larger sparklers with long stems that can burn for up to three minutes.
Lighting Sparklers
Sometimes, couples opt for cute matchbooks to pair with sparklers, but we encourage you to keep the matchbook favors separate from your sparklers. It is crucial to streamline the lighting process, as you will have up to three minutes total to light the first one and complete your exit and photos. In that time frame, you don't want your guests to be fumbling around with lighters or matches. Light the first sparkler or two with a wind-resistant, torch-style lighter. (The next best option for lighting the sparkers is with a long-stem grill lighter.) Once you start getting some sparklers lit, guests can easily use the lit sparklers to light other sparklers. A sparkler will light up almost immediately from another sparkler. You should be quick but safe, only lighting one other sparkler at a time.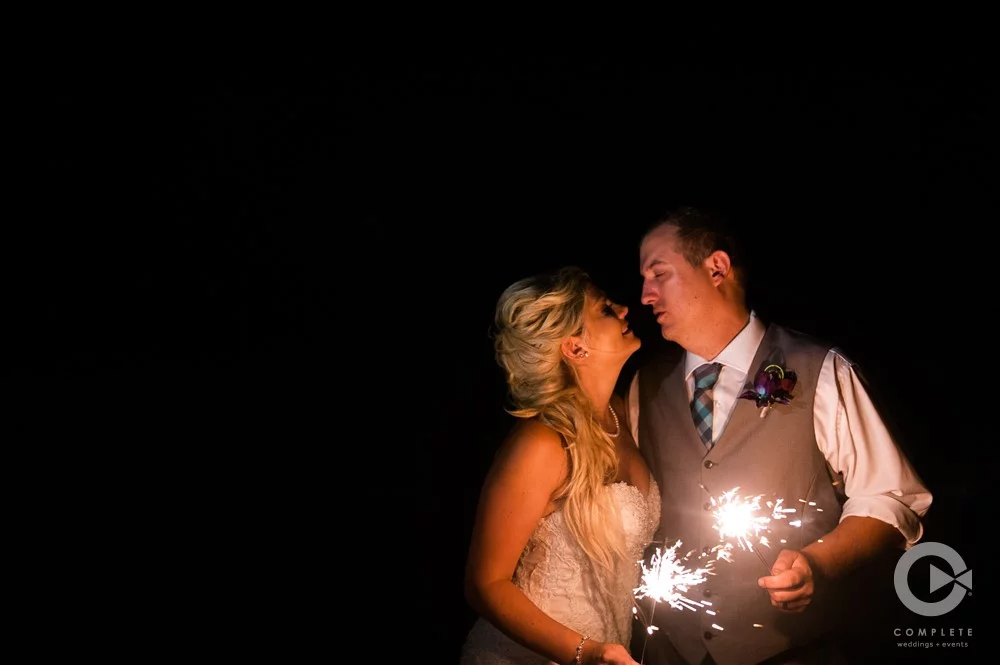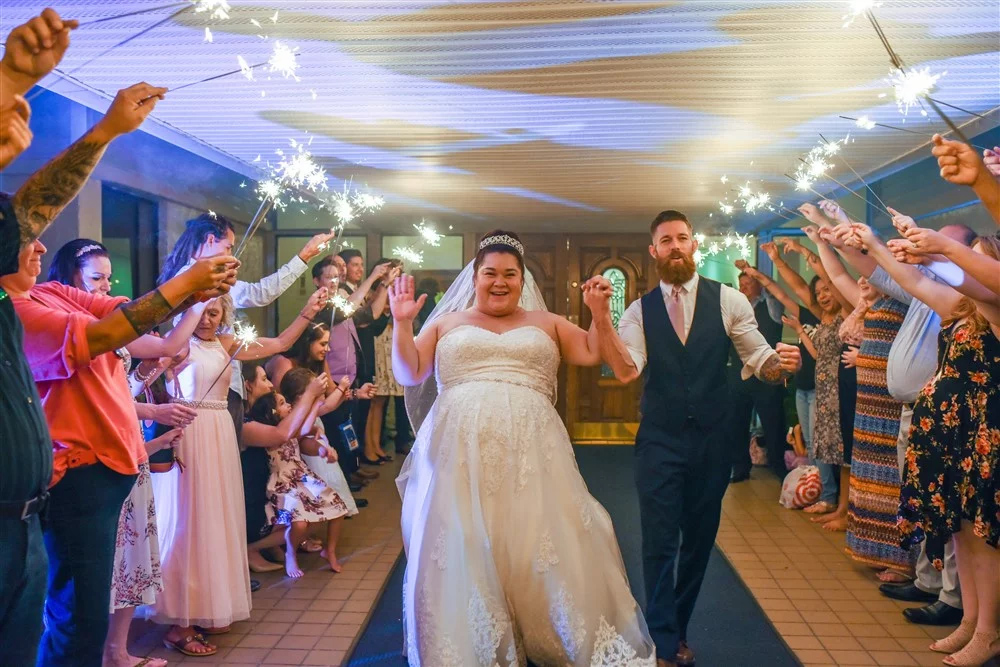 Disposing Sparklers
As with anything involving fire, you want to have a safe way to dispose of the sparklers when you are finished using them. Since the sparklers will still be warm you don't want to toss them in trashcans. You can place the discarded sparklers in buckets of sand for them to cool before throwing them away. Have buckets positioned in an easy-to-see place where guests will be entering
Scheduling Sparklers
Scheduling your sparklers is an extremely important part of your wedding itinerary. You want it to be at a time when you have plenty of guests on hand, but you definitely do not want to "exit" your party too early. Many couples will do a "fake" exit once it gets dark so many guests (including the kids!) can partake in the photo op, but don't have to stay until the very end of the reception. Since the sun sets at varying times throughout the year, you'll want to look up when it will get dark on your wedding date. Our team can help you work out the perfect time during your reception to do your exit.
Photographing Sparklers
You want to be prepared and informed to capture a sparkler exit or any sparkler photo. There are some technicalities involved that are better handled by a seasoned photographer. Our team at Complete has experience capturing these photos and can help you and your family and friends get the perfect photo.
Pose Options for Wedding Sparklers
When it comes to lining up sparkler photos, the possibilities are endless! Guests usually form a sort of tunnel for the bride and groom to walk through. These photos are fun because you get to see all the people who stayed to the end of the wedding. Capturing a kiss at the end of the tunnel also makes for some great photos.
You can do close-ups of just the bride and groom with their sparklers. These make for a more intimate photo and are easier to capture since you can control the light. It's also fun to include your bridal party.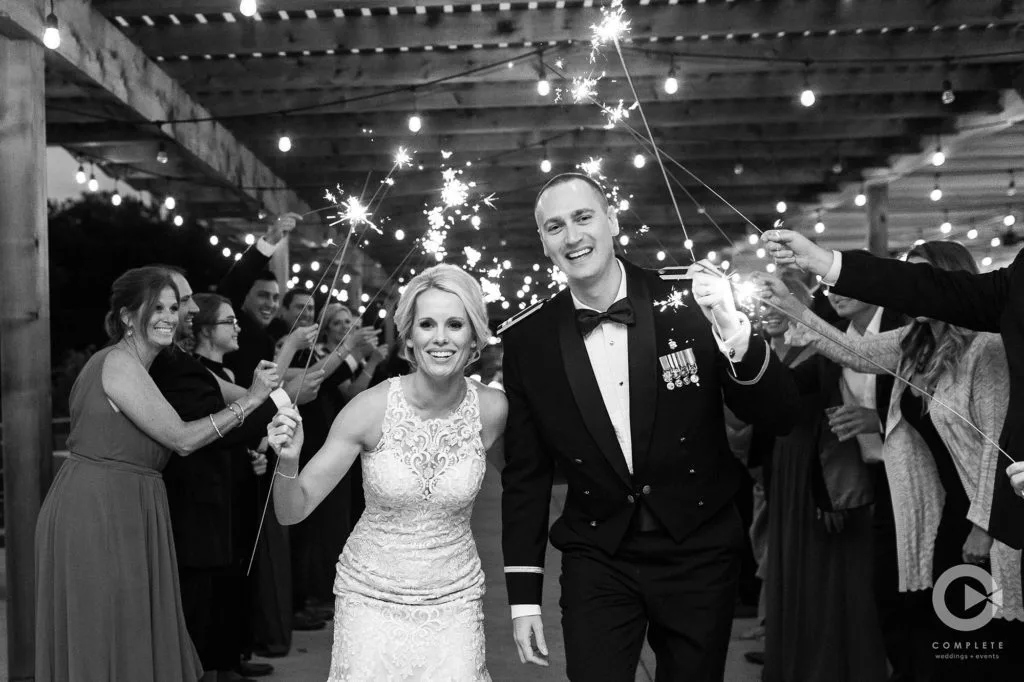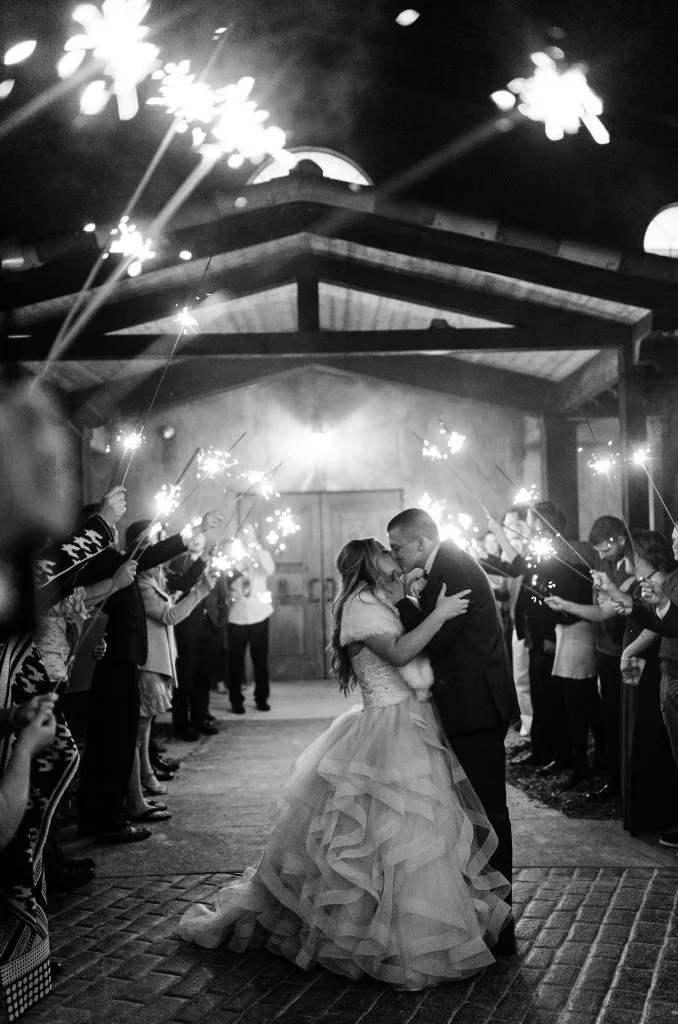 Ask us About our Cold Sparkler Fountains!
Here at Complete Weddings + Events Fort Myers, we have recently added to cold sparkler fountains as an option to rent for your big day! These are hands-off (no lighters required), and they are great for your grand entrance or exit, as well as reception introductions or your first dance! And the best part is they are COLD! This means they are totally safe and able to be used indoors and will give your desired moment some major wow-factor. Contact one of our event specialists today for more information on this stellar indoor lighting option!
Answers to Your Wedding Sparkler Questions
Wedding sparklers are a beautiful way to finish off your big day. We hope this guide helps you understand how best to use them and gives you some ideas for your photos. If you have any questions on wedding sparklers or planning a South Florida wedding, we here at Complete are happy to help!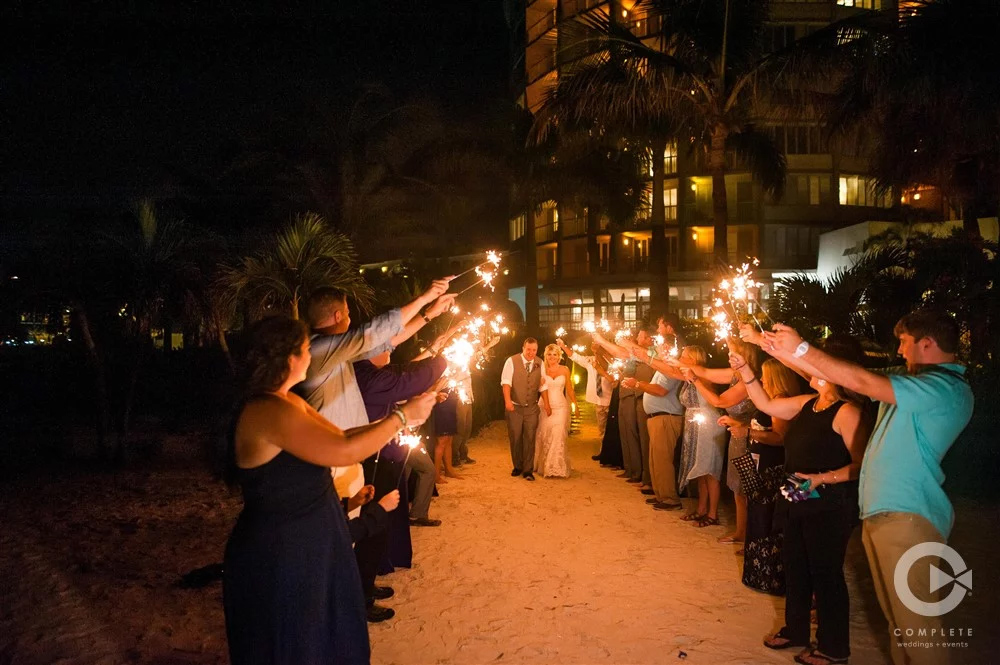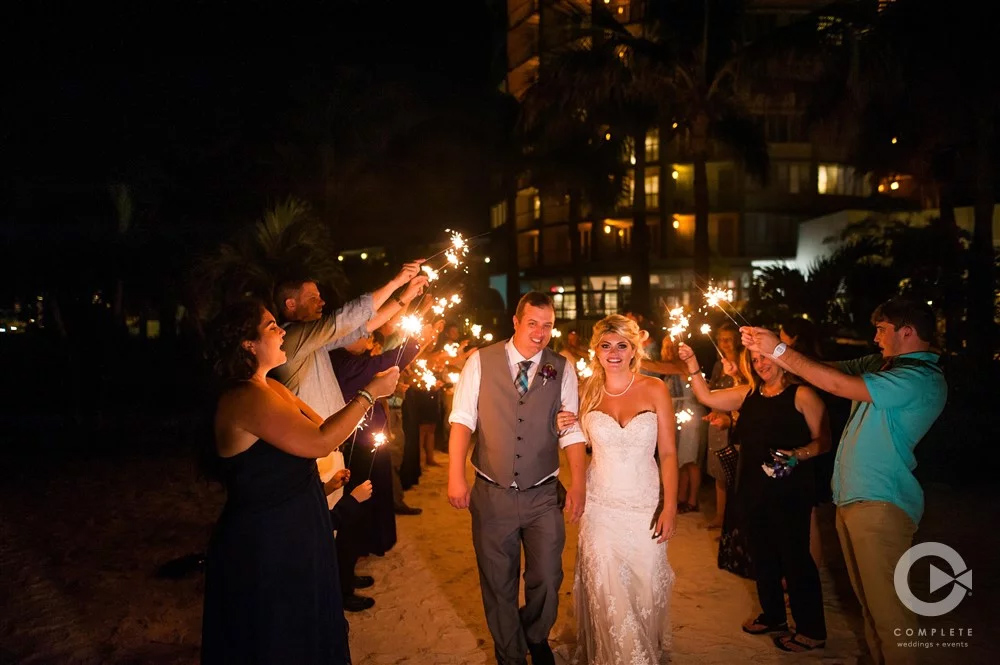 Complete Weddings + Events | Fort Myers FL
If you're looking to tie the knot or throw an epic event, you have come to the right place. Complete Weddings + Events Fort Myers will help you find the right event or wedding DJ, wedding photographer, and videographer to throw a phenomenal party. Naples, Cape Coral, Fort Myers leading provider of event and wedding photography, videography, lighting, DJ services & photo booth rental.
In addition to Naples, Cape Coral, & Fort Myers, we also serve Punta Gorda, Port Charlotte, Lehigh Acres, Bonita Springs, Estero, Fort Myers Beach, Sanibel Island, Captiva Island, & Marco Island.
When you party with Complete Weddings + Events Fort Myers, it's completely about you!