We are total suckers for personalized details, and really making your wedding yours. Elli and Nathan nailed it! For a couple getting married in December the lucked out with some amazing weather and were able to really capture some great outdoor shots! Elli and Nathan managed to get to the Capital building in downtown Des Moines to capture the amazing views as their backdrop as well as incorporating some of the beautiful sculptures that are  showcased on the property.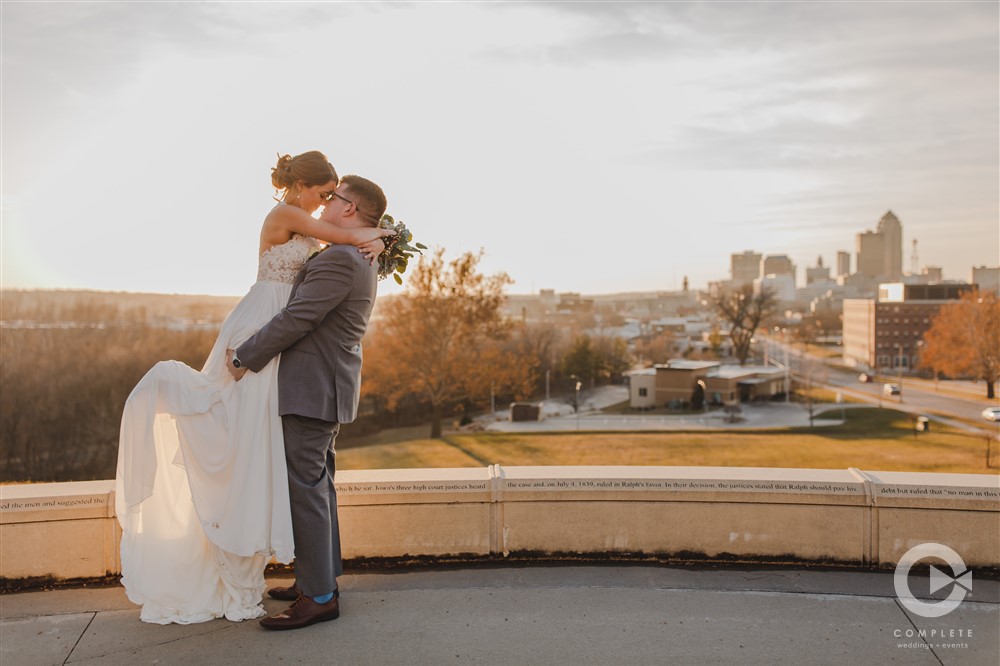 After  their intimate and meaningful ceremony, they loaded up their entire bridal party and were able to start the night off right on the party bus! These types of candid photos are the ones that we believe the couple truly values the most. These are the photos that capture all the moments that you may have missed because it's one of the biggest days of your life, and let's be honest….you're busy!
Once the group arrived at the The Courtyard by Marriott in Ankeny, the party had already started, but was going to continue! The reception space was beautiful, and definitely a nod to the couples great taste and minimalist style, but that didn't mean we weren't able to capture some amazing details like the couple getting "ICED" and a tender moment between the bride and her new sister-in-law.
It's all in the details.
Elli and Nathan knew exactly what they want to accomplish with their wedding, they wanted to make sure they included everyone that mattered to them, even if they were no longer with them. Both of them also really wanted the other to know how much they loved one another, as you can see from the sweet little notes, and details on the shoes! From the moment the day started we knew that it was going to be one for the books, not only did Elli's dress have the ability to take the grooms breath away, but they also took the breath away from their guests with how much they made they day about all of them.