The Conrad Mansion is a historic building in Conrad, IA. It evolved from farmland to a family home, to a wedding venue in the past century. With so much history behind it, it only made sense for Kavita + Dev to have their wedding day there. The mansion was not only just a venue space for them, but it also offered the capability of hosting more than 40 of their wedding guests for a full weekend. The party could never stop! A full weekend of traditional wedding ceremonies lay ahead.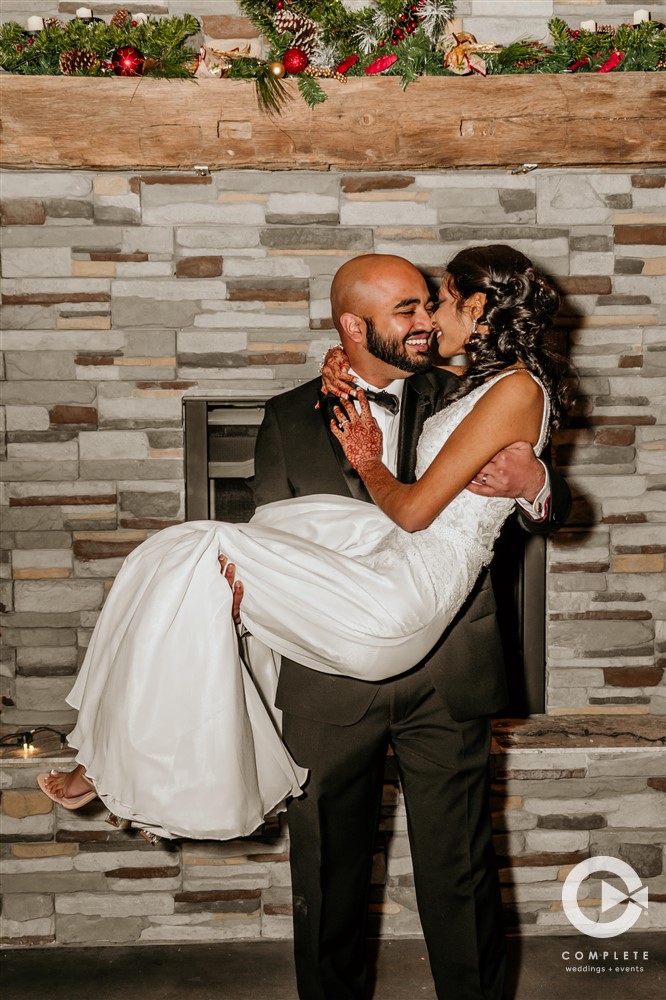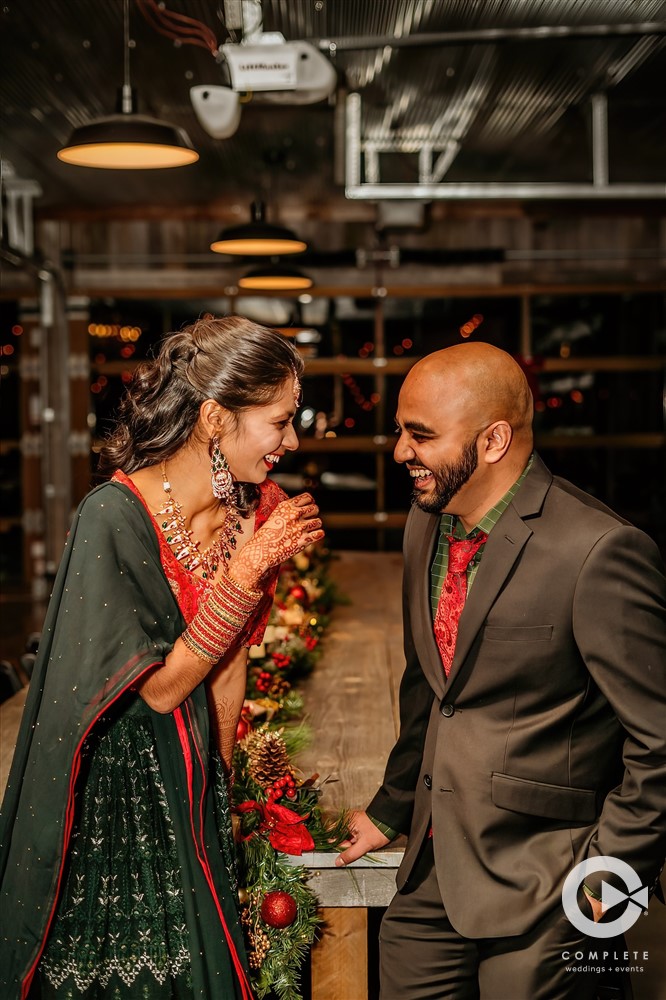 Traditional Ceremony Attire
To start off the weekend of wedding festivities, Kavita + Dev had to first go through a traditional Indian ceremony. For that ceremony, they wore the most stunning attire.
Bride
Starting with the bride. Kavita wore a dazzling red top that was embroidered with gold details. She paired the red top with a deep emerald green a-line skirt with silver details. Kavita topped off the outfit with a similar shade of green sari with red trimming. For accessories, the bride adorned herself with statement pieces. Her bold and gold necklace had triangle shapes with emerald green droplets at the tips. Kavita also wore stunning chandelier earrings that also had emerald gemstones surrounded by white crystals. The gemstones also appeared in the maang tikka hair jewelry. For makeup, it only made sense that Kavita wear a red lip to keep in the theme with the color palette. The rest of her makeup was subtle and timeless.
Groom
Dev complemented his bride in his own way. He wore a classic black suit but gave it a twist. He pared it with a plaid green button-down and a red embroidered tie. Next to each other, you could tell the two were happily in love and were ready for the traditional ceremony to begin.
First Looks
Soon after their traditional wedding ceremony, Kavita + Dev went to change into their second wedding attire. Once they were ready, the bride and groom met outside on the patio of The Conrad Mansion. Kavita sneaked up behind Dev and with a tap on his shoulder, he turned around to see his beautiful bride in white. Her second wedding dress was an a-line dress. It had thicker straps that went down into a v-cut on the bodice. It was adorned with stunning lace that faded into the skirt. On the back of the dress, the structured cut left space for mesh with subtle polka dot details.
Again, Dev complemented her attire with the classic black suit and a white button-down shirt. He decided to dress up the suit with a black bowtie, giving it an elegant look. Together, they made a stunning couple.
Decor
Guests gathered in the indoor reception area of the mansion. They walked into a welcoming space that had the perfect combination of warmth, romance, and the Christmas season spirit. The head table had a garland placed across it with ornaments, pinecones, and candles scattered through it. Alongside the aisles were mason jars filled with string lights and tiny Christmas trees to tie in the season. All creating an eye-catching space.
Reception
Once everyone had settled in, Kavita + Dev made their way down the grand staircase as a newly wedded couple. The guests all cheered in unison to welcome the bride and groom. The night continued with celebrations including toasts, cake cutting, and lots of dancing. At the end of the night, it was abundantly clear that this new marriage was filled with support from both sides of the family.