Fall is here, and with it comes a wedding season that is quickly growing in popularity. While summer used to be THE "wedding season," more and more couples are branching out and choosing to tie the knot when the leaves start to turn.
A fall wedding is very different than the spring and summer weddings we may be used to. Fall has its own atmosphere, from the chilly temperatures outside to the classic fall color scheme. Here are a few wedding trends you can expect to see this fall.
1. Dark Color Palettes
Springtime is for sweet pastels. Summer is all about bold, vibrant colors. And fall? Most fall weddings take their inspiration from the fall landscape around them; warm shades of yellow, orange, maroon, navy, and olive green with some brown accents tend to dominate the fall color palette. These colors are exceptionally beautiful and incredibly elegant for your big day.
2. Wedding Stationary / Signage
Fall weddings are about embracing the season for what it is, and what better way to do that than with breezy calligraphy and autumnal garlands. When it comes to day-of stationery, ditch the individual pieces of paper and make a statement with big personalized signage. Blackboards or rustic wood as cute welcome signs by your venue's entrance, mirrors with calligraphed cocktail offerings for the happy hour and even a big escort board presentation all score points in the décor department.
Finishing Touches: Give your signage some romantic border treatments with trending eucalyptus, vines, and floral accents.
3. Towering Décor
Bring your décor to new heights—literally. This fall, couples are really making the most of their wedding spaces…by decorating from the floor to the ceiling! One of the biggest fall wedding trends in 2019 is tall, towering décor that takes advantage of the open space above your guests' tables. After all, if you can't build additional square footage onto your reception space, build up! Tall centerpieces and other decorative items will transform your venue and bring your artistic vision to new heights.
If your wedding theme is more formal, go for tall candles and ornate candelabras. If you want to keep things rustic and natural, bring the outdoors in with leaf-adorned branches. (Bonus: The beautiful changing colors in the leaves act as their own décor.)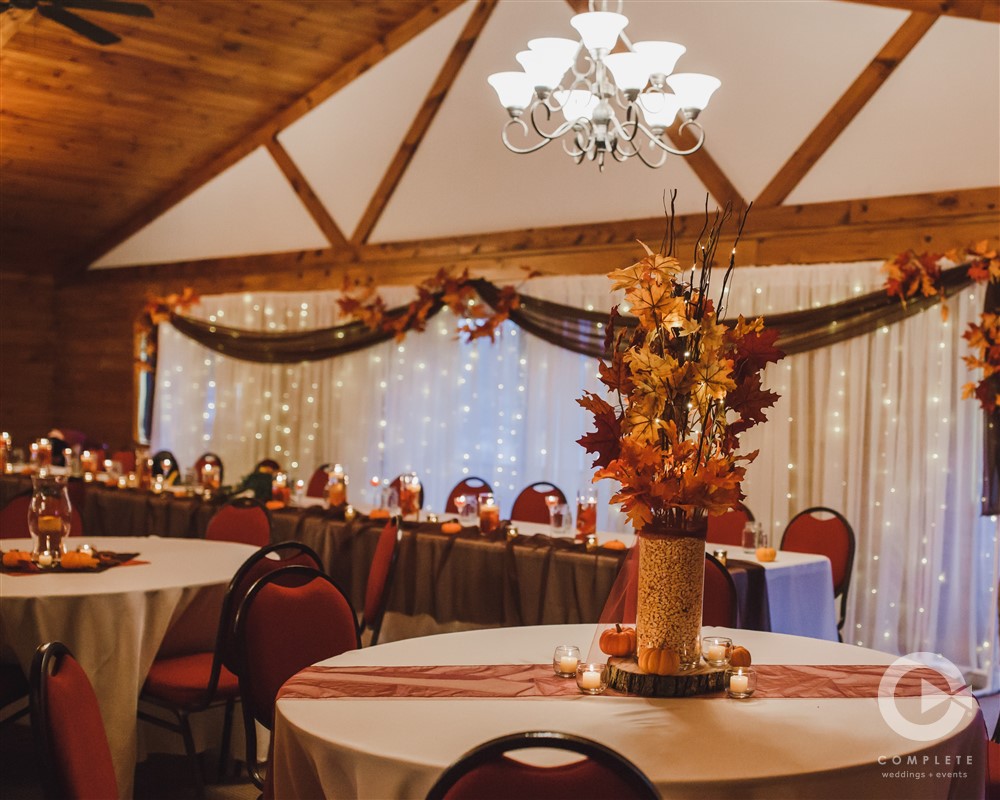 4. Small, Simple Cakes (with a Backup Sweet)
Rather than adorning cakes with fondant designs or sugar flowers, couples are opting for a clean, textured look, dressed up with small bunches of blooms or greenery. There's even a new version of the naked cake that's taking over the scene: translucent cakes. Instead of totally bare tiers, translucent cakes have a thin hand-painted veil of frosting with just a bit of the cake showing through. Recently, couples seem to be more interested in smaller cakes with simpler designs, and that trend is certainly prominent this fall!
Of course, a small, one- or two-tier cake will hardly feed all your friends and family. So, what should you do for dessert? Many couples are turning to a second dessert: a wall of donuts and coffee, warm hand pies, cupcakes, and more! This "backup sweet" gives you and your partner a chance to really get creative with your menu—and your guests might appreciate a warm dessert in the autumn chill.
5. Bridal Looks
With dropping temperatures come longer sleeves and cozy layers. Two-piece separates are the bridal fashion trend not to be missed. And, as we all know, long sleeves are always a go-to look when you're preparing for a wedding during the fall and winter months, this still remains true this year.
Having two wedding looks is also a popular trend this fall. Wear a traditional gown for your ceremony and switch into something more casual and cozier for the reception. A convertible dress with removable sleeves, a shawl, or an additional skirt allows you to achieve two separate looks for the ceremony and reception without breaking the bank.
Fall has arrived and with it comes new wedding trends. At Complete Wedding + Events Des Moines weddings are what we do and our staff gets a firsthand look at all of the latest seasonal trends as they emerge and progress. We have taken some of our favorites and compiled them here to inspire you as you plan for your big day! Check it out!