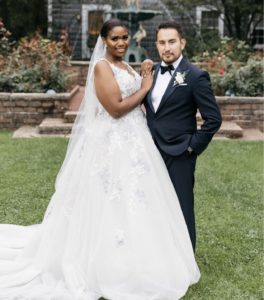 photo credit Perregaux Wedding Photography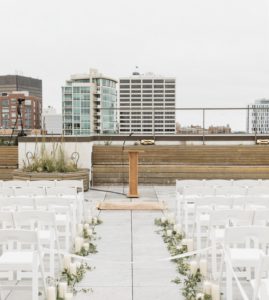 photo credit Perregaux Wedding Photography
The Rooftop Ceremony was perfect for their fall wedding ceremony at The Halim Time and Glass Museum in  Evanston, IL.  With the Chicago Skyline as the couple's backdrop to their wedding ceremony.
Our Complete Videography was blessed to capture the couple along with the Photographer from Perregaux Wedding Photography, as they exchanged their vows. The White chairs faced the skyline and the aisle lined with greenery and candles.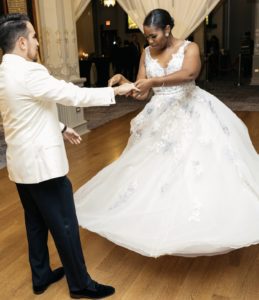 photo credit Perregaux Wedding Photography
Giusseppi & Georgianna The Halim Time and Glass Museum Evanston, IL Featured in Martha Stewart Weddings
The couple and their guests had an elegant sit-down dinner in the Wisteria room, Our Complete DJ, Randal followed along with the couple's wishes which created the night they had envisioned.
Our Complete Photo Booth was a great addition to the night, it kept the guests entertained and made a great memory album for our couple.
Review from Our couple~Between the amazing videography, photobooth expert and the incredible Deejay I seriously don't even know where to begin. Randal was the most amazing Deejay. He listens to direction, he was kind and knew exactly what he was doing. Every wish was our command on our wedding day. He had the music flowing throughout the entire evening and was beyond kind! Nancy was the best also down at our photobooth station. Our guests had so much fun at that station and the book full of photobooth pictures we received as a little gift was the best personal touch.
Our videographer Ken was so corky and fun! He made the daylight and comfortable when we were trying to get our shots for the day. I can not wait to see our video and our high light real.
This whole entire team I would hire again in a heartbeat. The amount of professionalism was just exactly what my husband and I look for and they just delivered every promise and handled themselves with SUCH ease!~Georgianna